As an official session supporter for the concluding session of AACP's Road to Resolution Conference with Pauline Tesler, CP(NSW) were proud to be able to host an in-person get-together as our 2021 Key Note event.
The day began with 30 Members of CP(NSW) engaged in Pauline Tesler's All-Day Workshop "Trust, Fairness and Attachment Ruptures in Collaborative Practice" and ended with more members popping in for some well-deserved drinks and a catch up.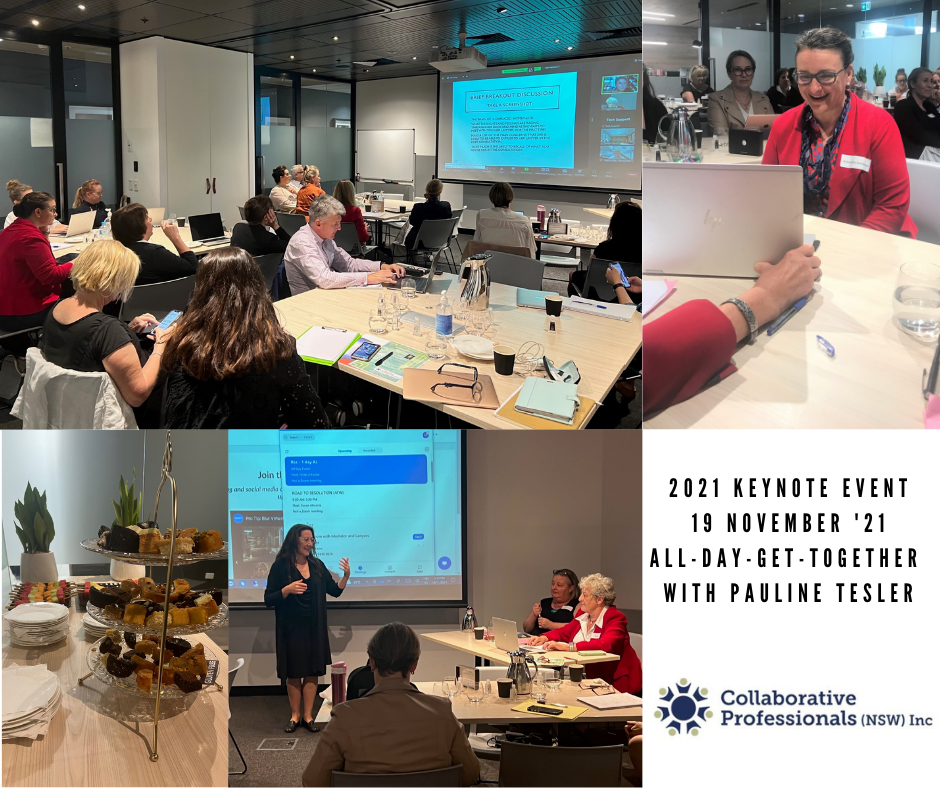 Access to the AACP Road to Resolution Conference Session link for the event was made available to CP(NSW) members at no charge by virtue of our Integrated Membership status.
Live polls conducted during the session revealed that overwhelmingly delegates believed the session changed how they viewed their role and responsibilities as a collaborative professional.
CP(NSW) President, Rachel Slat noted:
"The merger of the family law courts and new rules in September 2021 has seen an upsurge in mediations.  Pauline Tesler's workshop was a powerful reminder that collaborative practice can be restorative – something that mediation does not necessarily achieve.  That is, collaborative practice is more than "getting to yes" or securing an agreement.  The entire process, if done well, can assist people to develop empathy after the trauma of a breakdown or loss of a family member, and that in turn assists with not only creating agreed solutions, but improving communication and developing a new story between those in the dispute – one about how they chose to resolve their differences and how that process unfolded."